Venue Spotlight: Presqu'ile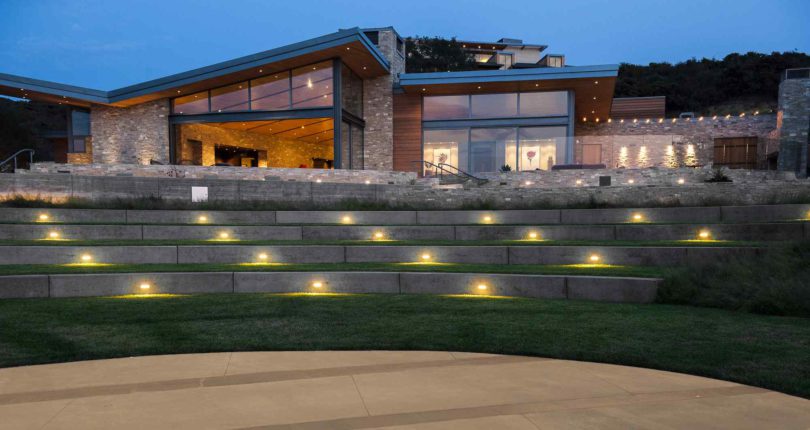 Presqu'ile is a multi-tiered winery with a gorgeous tasting room that offers expansive floor to ceiling glass walls that open up completely to two levels of terraces, an amphitheater and sweeping views of the Pacific and Santa Maria skyline. On 200 acres of organically farmed land, the tasting room is perched on a hilltop and is connected to our winery via a 250 foot long wine cave. Behind the winery is a Lily Pond, patio and grassy knoll; perfect for photo ops.
Modern in design: glass, stone, Alder and warm in feel. Presqu'ile Winery is elegance personified. Featuring a multitude of meticulously curated spaces, with a glimpse of the Pacific in the distance, it is the perfect canvas upon which to craft your dream wedding.
We offer different wedding packages from the Premier Package that includes our Hilltop Lily Pond venue to the Grand Room and terraces below, enjoy complete exclusivity of Presqu'ile for the day. Our Almost an Island package includes everything our Hospitality Building has to offer, including the amphitheater and wine club lounge in addition to the Grand Room and terraces. To the Lily Pond which is overlooking the Soloman Hills to the West and the San Rafael Mountain range to the East, the Lily Pond provides 360 degrees of breathtaking views.
Our venue is perfect for both weddings and corporate events. Because we are located on the beautiful central coast, our weather is perfect all year long, so we offer indoor and outdoor spaces year round.
Presqu'ile has been notably awarded "one of the ten best wineries in Country" by USA Today's 10 Best, and we would love to host your next event! For more information regarding rates and availability, please contact our Hospitality Coordinator Emily Dixon at (805) 937-8110 extension 104 or by email, [email protected]
Check out Presqu'ile's listing on Santa Barbara Venues