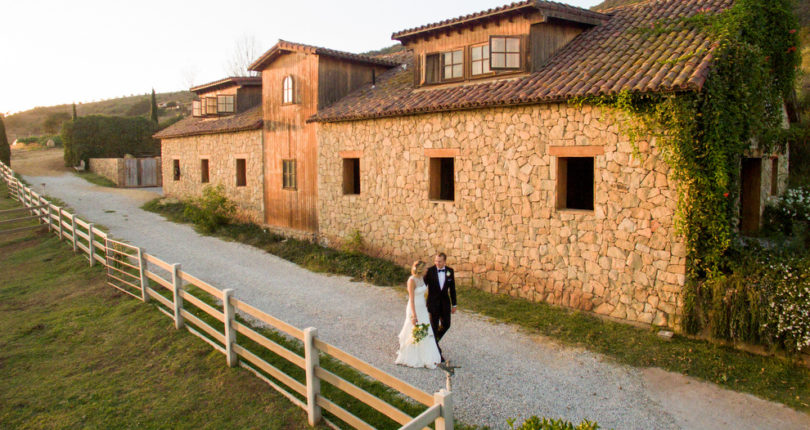 We're pretty keen on this one of a kind Carpinteria based venue. Klentner Ranch will exceed your expectations with ravishing views, green fields and timeless stone buildings. Overlooking the Pacific Ocean, this rustic ranch is an extension of the historic Santa Barbara Polo & Raquet Club which just happens to be the third oldest polo club in the nation.
October is one of the most beautiful months in Santa Barbara and has turned into one of the most popular months for weddings due to it's unparalleled weather. This past October, we were delighted to work at Klentner Ranch yet again, catering this stunning and elegant wedding. The photos just don't do this once in a lifetime event justice.
The menu was one for the books – straight delicious!
Passed Appetizers // Baked Artichoke Bottoms with Lemony Parmesan Filling, Ocean Fresh Ceviche Parfait in Chilled Tall Shot Glasses, Kahlua Pork Sliders with Pineapple Napa Slaw & Crisp Braised Short Rib Egg Rolls with Sizzling Saigon Dip
Appetizer Display // The Crudite Station is splayed out with stout glass "bouquets" of many sizes. We presented flavorful, unique Farmer's Market Crudities with colorful homemade dips of Roasted Red Pepper, Beet and Greek Skordalia Dip
Family Style Dinner // On gorgeous wooden platters we served up glorious grilled local veggies, scalloped potatoes, almost crusted sea bass with lemon buerre blanc & medium rare tri tip of beef with a madeira green peppercorn sauce
Dessert // We delighted guests with Chef Manned Crepe Stations where guests could choose from an array of fillings; nutella, warm strawberries, blueberries, whipped cream, toasted coconut, banana butter rum saute, almond slices, powdered sugar and we topped it off with vanilla ice cream
Passed Dessert // Spanish churros with delicious dipping sauces
My guess is you're pretty keen on Klentner Ranch now. And we hope you're keen on us too. Pure Joy Catering is at our service for your wedding or event needs. We'll help you create your perfect day. If you're curious, give us a call and we'll create a delicious and unforgettable menu for your special day as well.
Venue // Klentner Ranch
Caterer // Pure Joy Catering
Coordinator // Amazing Days Events
Photographer // Cameron Ingalls Photography
Lighting // Bella Vista
For More Pure Joy Catering Preferred Vendors, Click HERE