Multi-Cultural Wedding Bliss at Elings Park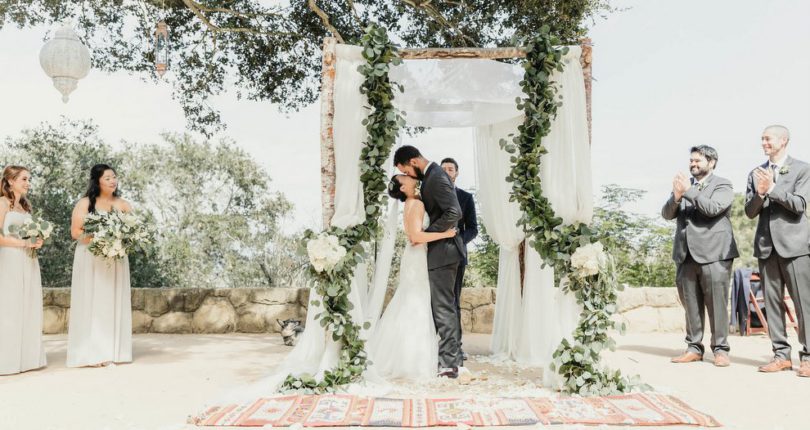 You can literally feel the love this beautiful couple has for each other through the photos. We caught this adorable couple googly-eyed and gazing at one another so many times throughout the wedding ceremony and it was seriously adorable.
Jen & Cory described how they love to travel the world together for scrumptious foods and beautiful sights. Their menu choices were fun, fresh and they beautifully reflected their personalities and wedding style. They decided to get married at Godric Grove, part of Elings Park in Santa Barbara. The hilltop park is vast with perfect views and is surrounded by gorgeous greenery. The best part is you don't need much added decor because you are completely surrounded by nature.
They chose a classic Santa Barbara Menu. The day began with their ceremony at the Elings Park Amphitheater and was followed by drinks and a delicious appetizer display of old school potato sacks filled with crisp, fresh potato chips with scratch made dipping sauces of ranch, caramelized onion dip, chipotle dip and blue cheese & chive. Next came the reception on the wooden deck surrounded by filtered sunlight through the trees. Everyone picked up their plates and meandered through the gorgeous farm to table buffet. They had plenty of options:
Cubed Watermelon with Pistachio Crusted Goat Cheese Medallions Dressed with Local Honey, Mint & Lime

Baskets of Hearth Baked Breads and Rolls with Ramekins of Herb Pressed Butter

Beautiful Platters of Fresh Grilled Local Vegetables with a Virgin Oil Herb Drizzle

Couscous with Chickpeas, Golden Raises & Topped Pine Nuts with Ginger, Turmeric, Cinnamon & Lemon Dressing

Grilled and Chef Carved Medium Rare Tri Tip of Beef with Madeira Green Peppercorn Sauce
After Dinner Service the newly wedded couple returned to a covered tent to partake in a traditional Chinese wedding tea ceremony. Here, they served tea to both sides of their parents which represents an important moment where both families become relatives of each other. The traditions we hold, new and old bring beautiful and meaningful moments and memories. We love seeing family wedding traditions. In fact, it brings us Pure Joy.
Cheers to Jen & Cory! We wish them a happily ever after!
Caterer: Pure Joy Catering
Venue: Godric Grove Elings Park
Floral: Lori Mark
Photographer: Kristen Victoria
Lighting & Coordinator: AMS Entertainment
For Pure Joy's Preferred Vendor List, Click HERE