Catching Pure Joy on the Wedding Flip Side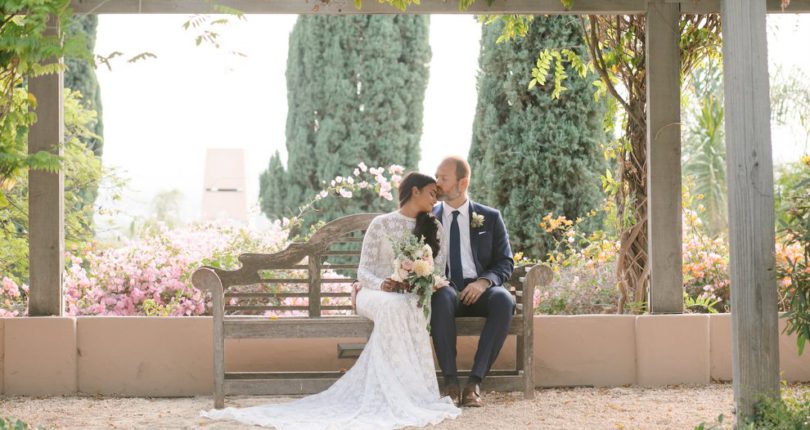 There were two sides to this wedding coin and each were vastly different from one another, yet both extremely beautiful. Kalpana and Matt tied the knot at the beautiful estate venue, Villa Verano in the foothills of Santa Barbara. Trina Scmidt worked with us and helped the couple coordinate and flip this glorious wedding from a traditional, colorful and elaborate Indian wedding to an elegant  California style celebration.
If you think planning a single wedding is a lot of work, try planning an entire day of wedding celebration festivities that incorporate both cultures and preferences into a seamless full day, chalk full of elaborate details. Pure Joy Catering entered this beautiful celebration on the flip side. The Bride and Groom, along with all their guests changed outfits for the second set of events and all the linens, tableware and decor were also completely switched over to showcase a beautiful, soft pastel colored California style wedding.
After the traditional Indian wedding ceremony and lunch, Pure Joy Catering ended the day's celebration with yummy passed appetizers and a delicious plated meal.
First Course
Caesar Salad; Crisp House Baked Croutons, Incredible Dressing, Aged Parmesan and a Meyer Lemon Squeeze
Hearth Baked Breads and Focaccia with Provincial Dipping Oil
Entree Course Options
Grilled Salmon with Lemon Beurre Blanc
Roasted Medium Rare Beef Tenderloin with Red Wine Mushroom Bordelaise and Horseradish Sauce
Entree Course Presented With
Roasted Garlic Mashed Potatoes
Farmer's Market Roasted Heirloom Carrots with a Nutmeg and Honey Glaze
Garnished with a Shard of Roasted Garlic Crisp
Vegetarian Option
Rosemary Speared Grilled Vegetable & Polenta Tower on Basil Cream and Roasted Tomato Pasilla Sauce
We just love this wedding, not only because you can see the love and two cultures blending together, but the work and dedication to create this seamless and fabulous wedding deserves some major kudos!
Wedding Vendors that brought it all together…
Bride & Her Bridesmaids

Indian Wedding Tradition

The Couple

Colorful Wedding Ceremony

Tablescape for wedding number one

Beautiful and Colorful

Intimate Reception Setting at Villa Verano

Vegetarian Entree

Delicious, Crisp Salads from Pure Joy Catering