Behind the Scenes at Ocean View Farm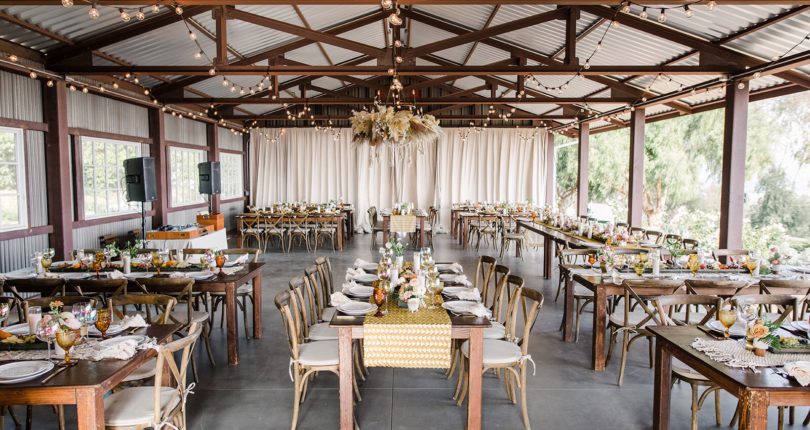 Santa Barbara County and the surrounding areas have been sought after by couples from across the United States and beyond for it's nearly perfect climate and beauty. As a result, the area has become quite the wedding destination and the area absolutely flourishes as a result. The thriving wedding industry has fostered our vendors and we truly have the best venues, caterers, coordinators, rental companies and lighting companies that a town can offer. Choosing your wedding venue is the very first step in the wedding process and it completely sets the tone for your special day. We've got the behind the scenes dirt (farm pun intended) on Carpinteria's newest venue, Ocean View Farm! Built from the ground up, owners Ken & Perry have created a spectacular venue. Here's more about them:
Who would have thought that a Century City music lawyer and a Beverly Hills commercial real estate broker would someday be organic farmers in Carpinteria? Certainly not Ken and Perry. But through a series of serendipitous events, that's what happened. An interim stop was Nashville, Tennessee, where they lived for 15 years and raised their son, Nick.  While in Nashville, Ken continued his music law practice and Perry eventually ended up as the Tennessee Film Commissioner. But once they became empty nesters, California and coastal living called them back.
Although only wanting a small piece of vacant land on which to build their dream house, their broker ended up showing them a 12 acre piece of farmland on a gentle slope in the foothills of Carpinteria with a 180 degree ocean view that took their breath away!  And as an added benefit,  Carpinteria, a town they knew little about, was a small quaint beach town like something straight out of the 50's and just ten miles South of Santa Barbara. It was perfect!
Before leaving the South, Perry, in neighboring Kentucky, found some Civil War era barns made from oak siding and hand hewn beams, and four semi-trailer trucks across the U.S. later, they had enough wood, together with local Santa Barbara sandstone, to build a rustic farm house, later adding a two bedroom detached cottage for their guests. But what do you do with the 11 plus acres of farmland that remained? You plant 1400 avocado trees, 100 lime trees, 50 Meyer lemon trees and 350 coffee plants and became organic farmers. Recently, they added a rusted metal barn that can seat 150 for dinner, and developed two beautiful outdoor adjacent spaces, one for a wedding ceremony area (with the bride entering down a stone stair case from the orchard) and the other for receiving the guests, cocktails and dancing under the stars, with views of the orchard to the North and views of the Pacific to the South. The bridal party can prep in the cottage and the groom and his party can prep on the first floor of the main house. The farm is overlooks the Channel Islands and is approximately 1 mile off the 101.
Set up a time to visit the farm and meet Ken & Perry for the perfect Carpinteria wedding.
Perry Gibson 1-805-722-4744 or [email protected]
See their Santa Barbara Venues Listing for more details and contact information HERE