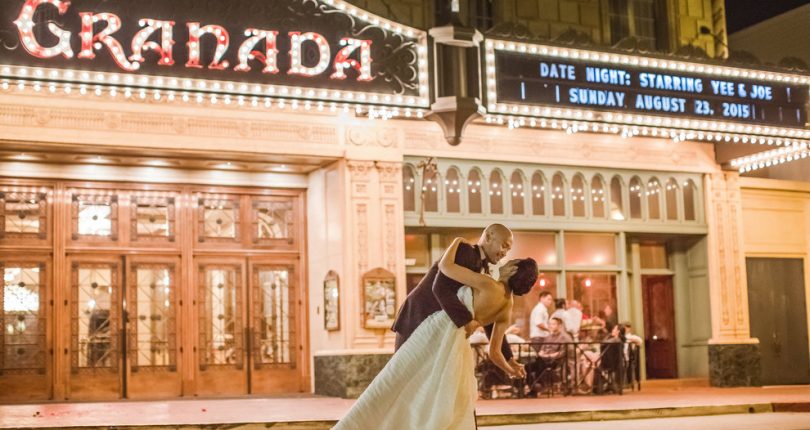 Classy. Elegant. Impressive. Grandeur. Yee & Joe are all those things. They simply exuded love and were completely and utterly gracious. Their chosen venue, The Granada Theatre was an impeccable reflection of their personalities and style; grandeur.
The theatre, with it's 1,500 empty seats was vast with a concentration of family and friends on the main stage. It made the reception feel extra special. To be surrounded by this wonderfully historic space and the thought of the tremendous amount of art and performances that have taken place in the room was overwhelmingly welcomed. It was Yee & Joe's day and they were definitely center stage.
Guests had a ball dancing on stage and ate…literally all night long. The menu was absolutely impressive and we know it was delicious because everyone consumed every last morsel. I think guests attempted to exert extra calories dancing just to make room for all the late night snacks we provided. Here's a little glimpse of the menu:
Appetizers: Cocktail Tarts // Grilled Prawns & Scallops wrapped in Maple Cured Bacon // Mini Patron Bottles of Margaritas & Grilled Fish Tacos on Limes // Cocktail Hamburgers & Mini Milk Shakes // Mini NY Hot Dogs with Petite Pints of Beer // Baby Lamb Chops with Mint Pesto // Seafood Ceviche 
Dinner: Heirloom Tomato Salad with Balsamic // Roasted Salmon with Sun Dried Tomato & Pine Nut Crust // Beef Tenderloin with Red Wine Mushroom Bordelaise // Garlic Mashed Potatoes // Grilled Local Veggies // Grilled Vegetable Polenta Tower with Basil Cream & Tomato Pasilla Sauce
Dessert: Mini Fudge 3-tier Cake // Berry Tart // Tiny Pecan Pie // NY Style Cheesecake // Ice Cream Sandwiches with all the fixings // Mini Fresh Made Donuts & Shots of Iced Coffee
We've concluded The Granada Theatre is an amazing indoor reception option and we can't wait to cater another wedding there. This was a spectacular and unforgettable evening of love, friendship and of course deliciousness. Congratulations Yee & Joe! We wish you a lifetime of Pure Joy.
Details:
Caterer: Pure Joy Catering
Venue: The Granada Theatre
Photography: Montana Dennis Photography
Lighting: Spark Creative
Band: Entourage
Floral: Precious and Blooming