Presqu'ile Winery – A Hilltop Oasis in Wine Country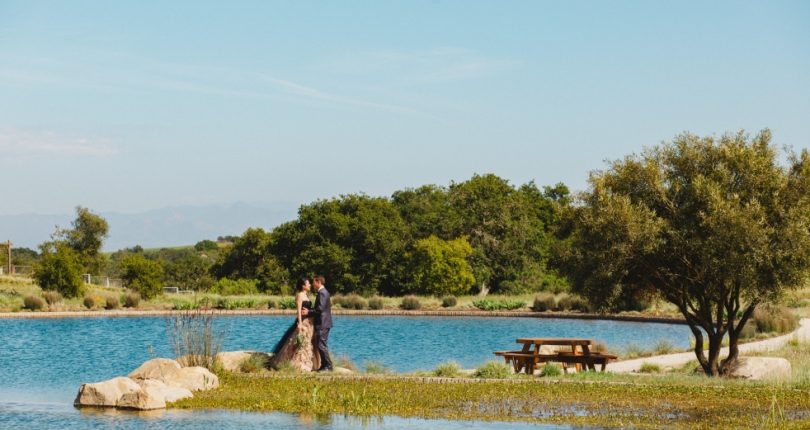 With a secret garden, modern architecture and a manicured amphitheater at your fingertips, choosing Presqu'ile (press – KEEL) winery for your ideal event location is a no brainer.
Perched atop an ideal peak in Santa Barbara County's wine country, Presqu'ile – meaning 'almost an island' – surrounds you with idyllic rolling hills, 200 acres of wine grapes and unobstructed views of the valley and Pacific coastline.
Imagine saying 'I Do' in the grass amphitheater overlooking rolling hills, and lounging in the secret garden and noshing on some Chicken & Waffle Bites made with Delicious little fresh waffles & crispy fried chicken with pure maple, butter & a dash of hot sauce or sidling up to our Local Organic Avocado Bar Split Avocados with Colorful Fresh Made Salsas, Corn Relish, Cilantro, Crumbled Cotija, Crisp Bacon, Radishes and Heirloom Beans.
Moving inside for dinner, your guests could enjoy one of our famed Live Dinner Stations. Cool off in the ocean breeze with our Raw Raw Bar including Beautiful Ponzu Scallop Shooters presented in their shells, Iced Jumbo Shrimp with Spicy Pink Cocktail Sauce and Fresh Shucked Oysters on Crushed Ice with Ginger Mignonette, Sesame Chili Sauce and Sake Lime Sauces. Elevate a crowd favorite with our Flatbread Station: A Variety of Artisan Thin Crust Flatbreads topped with Local Organic Veggies, Virgin Olive Oil & Basil Pesto, Goat Cheese, Mozzarella and a Handful of Baby Arugula. Take a simple pasta bar to the next level with a Chef Manned Gnocchi Station offering House made Fresh Gnocchi with Pesto, Garden Marinara, Parmesan Alfredo, Fresh Spinach, Tomatoes, Artichoke Hearts, Parmesan, Kalamata Olives, Feta and Toasted Pine Nuts.
Presqu'ile also offers intimate dinner settings, such as a wine tasting and culinary experience in the Sunset Dining room. Paired with Presqu'ile's award winning vintages, Pure Joy can create custom coursed meals for any palate. The rooftop terrace has a private suite included, and is perfect for bridal or baby showers. If you're looking to accommodate a larger group, the Grand Room has hand-cut locally sourced stone walls, alder wood ceilings and to-die-for floor to ceiling sliding glass walls, allowing your guests to spill out into the warm summer night. With ample seating for 200 of your closest friends and family, you can dance the night away under the stars.
Check out Presqu'ile Winery's SBV Listing HERE