Rebecca & Benjamin Turner Wedding at Tiber Canyon Ranch in San Luis Obispo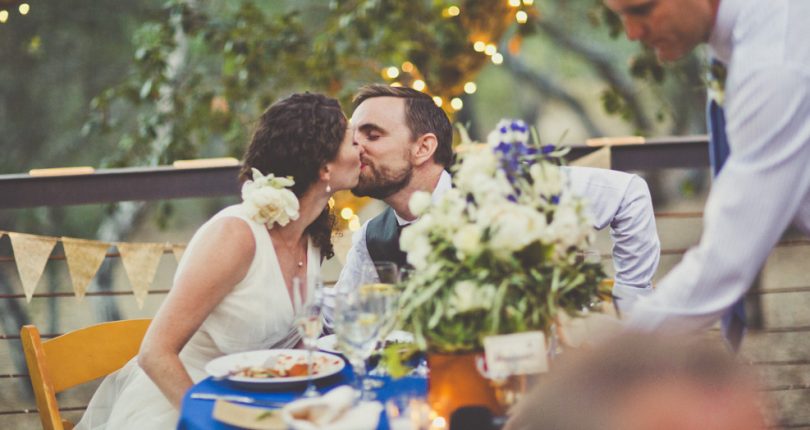 Tiber Canyon Ranch is situated on 50 acres of oak and manzanita woodland nestled in the hills between the Pacific Ocean and the Edna Valley wine growing region of San Luis Obispo County. According to local legend, about 10 acres of the ranch were cleared during WWI and planted in apricots. When the new owners came to the ranch, only five of the ancient, gnarled trees were still hanging on. Now, where their companions once stood, they grow ten different varietals of Northern Italian olive trees. Just a little tip-bit on the Ranch! A perfect venue for any wedding!
They had us create a scrumptious primarily vegan dinner that was received with rave reviews by all. Fun Stations like the Saucy Station of yummy dairy free sauces for everything, a handmade taco station with Potatoes and Tofu Chorizo and another with Brown Rice Organic Pasta Puttanesca with Savory Plum Tomatoes, Virgin Olive Oil, Capers, and Kalamata Olives, and a fabulous array of Farmer's Market deliciousness with just a bit of local goat cheese & local line caught halibut.
Rebecca & Ben's Colors pallet for their Wedding Day were – Cobalt Blue & Ivory overlaid with Rustic Burlap and Succulents making a very Chic Rural Theme which was captured brilliantly by their Photographer Sarah Kathleen. Who is crafted in her art as you can see from the above photos – Sarah is driven to tell the story as it unfolds of the day. Contrasting it with the beautiful and messy parts! I have to also mention their stunning flowers which were done by Melinda at Festive Designs and the wedding was marvelously coordinated by Alizabeth Schotten, one of our in-house coordinators!